29 March 2023
Renewables + Energy Savings = BFF❤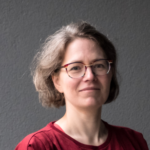 Author:
Kathrin Gutmann
Campaign Director, Beyond Fossil Fuels
In late 2017 we launched Europe Beyond Coal, a collective campaign with the goal of every coal power plant in Europe burning its last, by 2030 at the latest. Back then, our map was a sea of countries with no commitments to phase out coal and a swarm of coal plants without closure dates.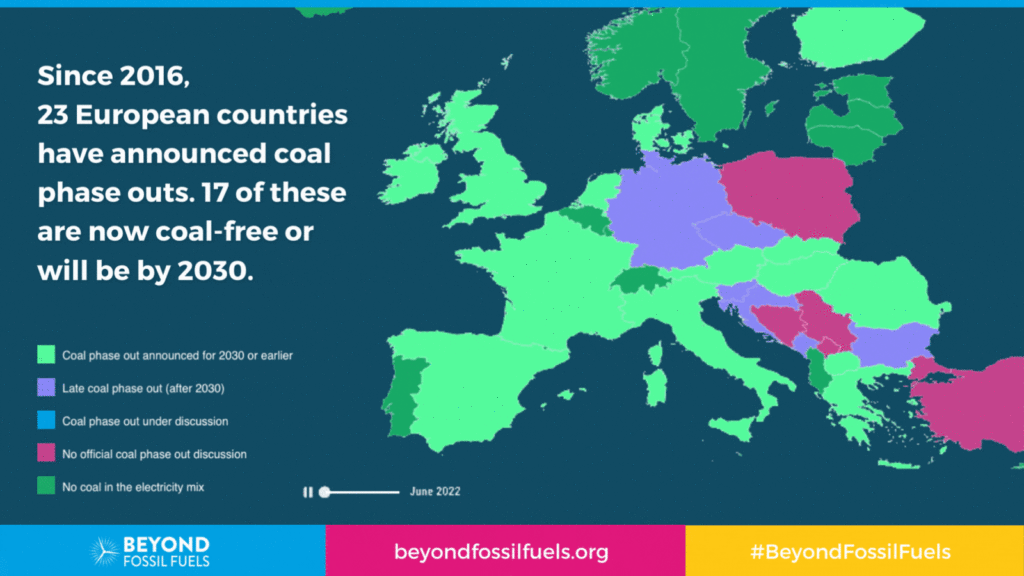 A 2030 coal phase out seemed laughably ambitious then, but here we are, just over six years later, with a transformed Europe. The year 2030 is uncontroversially seen as the latest date energy companies can be burning the black rock (or brown mud). Only five countries out of 28 have held out on making the coal shutdown decision they invariably will have to make. That leaves 23 countries committed to exiting coal, 17 of which will do so by 2030 (or much earlier). We started our coal plant countdown at 328 plants, and just 157 are left without 2030 or earlier closure dates today.
The world changed very fast for coal, and as this last year with a war in Europe has demonstrated, the future for all fossil fuels is equally grim. 
Russia's invasion of Ukraine is creating immense suffering and destruction in Ukraine and a cost of living crisis across Europe and beyond. It underlined just how fragile and volatile our fossil fuel dependent economies are.
Upon realising this, the panicked emergency measures some European countries enacted in 2022 were costly. Necessary, but way too many of them also created more problems, as they did not sufficiently address the root causes behind the compounding crisis. One of the outcomes was that a handful of coal plants were given life extensions, or brought back from mothballing. In a few places we saw a discussion to slow down the coal exit, but importantly no country abandoned its commitment to exit coal, and the plants brought back were barely used. 
Meanwhile, many governments and fossil companies have face-palmingly turned their sights on building a massive, unnecessary alternative fossil gas infrastructure to substitute for Russian imports. The majority of these plans are mercifully still in the planning stage, but while coal is in inevitable decline, many countries are clearly still clinging to fossil gas as if it has a future. However, Europe is full of contradictions, as renewables are also booming. 
Europeans are good in a crisis, and our solidarity with each other and Ukraine saw massive energy savings this last year, which, combined with a first scale up of renewables and a thankfully mild winter, left the coal "resurgence" all thunder but no lightning. 
Citizens have run to install solar panels and heat pumps, and the need for home-grown solutions to the energy crisis has similarly infused many governments and businesses as well with unprecedented enthusiasm for clean, renewable solutions. Never before have European countries installed so many solar panels, wind turbines and heat pumps in a single year. 
That said, not everyone could afford to invest in renewable or efficiency solutions, so to shield people from surging fossil fuel prices, governments allocated EUR 768 billion to subsidising energy bills and other protective measures since September 2021. This money helped people avoid freezing during winter. At the same time, many fossil fuel companies made yet more, totally obscene windfall profits.
To put this unimaginable amount of money into some perspective: Based on our calculations this much money could pay for more than 29 million homes and 44,000 car parks to have solar panels installed, 28.6 million homes to be upgraded with heat pumps, 20,500 onshore and offshore wind turbines and 9,500 solar farms to be built.
This kind of investment in solar, wind, heat pumps would already get us a long way to break our dependence on fossil fuels. More will be needed across all sectors to cut energy and fossil fuel use, and to help vulnerable households, communities and local businesses with the transition. 
Then we'll also want to invest in smart power grids, as well as plenty of storage and flexibility options. That's a lot. But we have to remember: Europe is a large industrial economy, fully capable of making such investments. What it would buy is an end to the destructive, exploitative status quo, a permanent reduction to electricity bills, far more secure energy supplies, and real action on climate action all at once.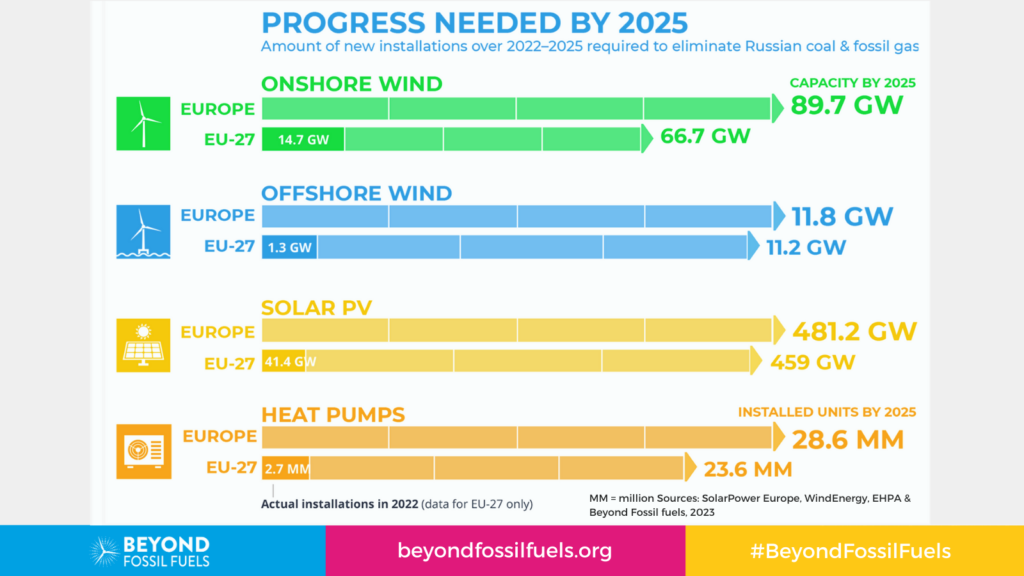 It would also stop European countries from continuing their global fossil fuel shopping spree, driving up prices, outbidding developing countries, and entrenching dependence on fossil fuel export economies.
This is also a transformation Europeans overwhelmingly want, with 87 percent thinking "the EU should invest massively in renewable energies". When more people find out that solar and heat pumps saved some Europeans up to 84 percent on their energy bills in 2022, thoughts will turn into vocal demands.
While we expect that we will meet our decarbonisation challenge, it is clear we have a lot of work ahead to make sure it happens. That means drastically ramping up the roll-out of renewable energy, electrification and energy savings now, to get us on the right path for 2035 and beyond. 
Real world challenges need real world answers. In our latest report, 'Freedom From Fossil Fuels', our experts undertook a meta-analysis of published research and market outlooks and identified a package of measures on renewables, efficiency and smart consumption that could reduce Europe's gas and coal use for energy by 35% and 44% respectively by 2025, compared to 2021 levels. This is a similar amount to the gas and coal imported from Russia in 2021. 
The very encouraging finding was that accelerating the deployment of solar, wind and heat pumps alone would substitute more than two-thirds of Europe's pre-war fossil gas and coal imports from Russia. Namely, countries and businesses across the continent need to add 481 gigawatts of solar, 102 GW of new wind capacities and 28.6 million heat pumps between 2022 and the end of 2025. Implementing all measures identified would put Europe as a whole on track for a fossil-free, renewables based power sector and the larger energy transition.
Every politician, business, financial institution, and energy company has a responsibility to put extraordinary plans in place in the coming years to rapidly end fossil fuel use, and build a fair, electrified, energy efficient, circular, sustainable, renewables-based European economy free from pollution. And one that works for everyone.
Just as we expect every last one of the 157 coal plants remaining in Europe will end up with pre-2030 closure dates in the coming years, we also expect that by 2035 our power sector will be based completely on renewable energy instead of fossils. That is what we will campaign for: going Beyond Fossil Fuels. 
It's very achievable, and best of all: it's so worth it to protect our economies, our health, our security, and our future.